At the racetrack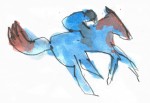 On eBay I bought four whisky glasses from
Santa Anita Park; this was Charles Bukowski's
favorite race track and he spent a lot of time there.

I've never betted on the horses myself but there was
a race track close to our summer house in Sweden
and I went there when I was a kid.

I never really liked to watch the horses run but
I came to see my uncle Allan who was a
regular at the track. I liked him a lot and he
always gave me money for ice cream,
so even without betting I came out ahead.

And now, 45 years later, here I am
with my large Santa Anita whisky tumbler
with the engraved horses and jockeys,
a couple of ice cubes and a large splash
of Glenlivet whisky.

Maybe I'm slowly
beginning to understand
the art of horseracing
after all.